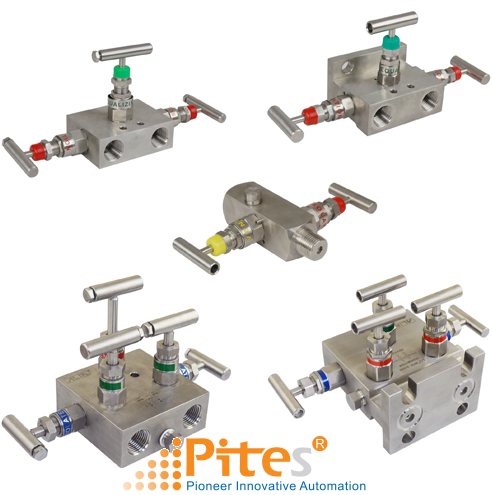 Smart Differential Pressure Transmitter
Xuất sứ: USA
Nhà cung cấp: PITESCO
Hãng sản xuất: Alia VietNam
Liên hệ tư vấn

Ms Thanh

thanh@pitesco.com
0914.432.418

hongthanh86
AHV400 Đại lý hãng Alia tại Việt Nam, nhà phân phối hãng Alia tại Việt Nam , thiết bị đo lưu lượng Alia, thiết bị đo mức Alia
AHV400 series manifolds feature a horizontal body design. Manifolds are constructed out of bar-stock and forged material in 316 Stainless Steel as Standard.
Standard models are available in 2-, 3-,5-way configurations together with a full range of connection types; custom designs are available on demand.
Each manifold undergoes hydraulic pressure, pneumatic pressure, vacuum, vibration and thermal stability testing to ensure product integrity.
FEATURES
All 316 Stainless steel construction

Convenient method for blocking, exhausting, and calibrating pressure instruments

Flange seals and flange bolts are included with manifold

Designed for connecting system impulse line & transmitter

Special hardened ball seat is ideal for both gas and liquid service

All stem packing is located below to stem threads presenting galling, corrosion and contamination

One piece construction for higher pressure
SPECIFICATION
Double Block & Bleed Gauge Valves
Separately Mounted 3-,5-Valve Manifold
Model:
AHV426N
Model:
AHV436N / AHV456N
Test Pressure:
@ 25 oC Room Temperature
Test Pressure:
@ 25 oC Room Temperature
Hydrostatic
Body - 620 Bar
Hydrostatic
Body - 620 Bar
Seat - 415 Bar
Seat - 415 Bar
Pneumatic
Seat - 40 Bar
Pneumatic
Seat - 40 Bar
Gland Packing
PTFE
Gland Packing
PTFE
Material:
Material:
Body
Stainless Steel 316
Body
Stainless Steel 316
Wetted parts
Stainless Steel 316
Wetted parts
Stainless Steel 316
Plate
Stainless Steel 316
Plate
Stainless Steel 316
Max. Temperature:
180 oC
Max. Temperature:
180 oC
Connections:
Connections:
Process
1/2" NPT (Male)
Process
1/2" NPT (Female)
Instrument
1/2" NPT (Female)
Instrument
1/2" NPT (Female)
T-Type Direct Mounting 3-,5-Valve Manifold
Model:
AHV436T / AHV456T
Test Pressure:
@ 25 oC Room Temperature
Hydrostatic
Body - 620 Bar
Seat - 415 Bar
Pneumatic
Seat - 40 Bar
Gland Packing
PTFE
Material:
Body
Stainless Steel 316
Wetted parts
Stainless Steel 316
Plate
Stainless Steel 316
Max. Temperature:
180 oC
Connections:
Process
1/2" NPT (Female)
Instrument
Direct on instrument