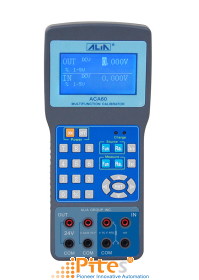 Multi-Function Calibrator
Xuất sứ: USA
Nhà cung cấp: PITESCO
Hãng sản xuất: Alia VietNam
Liên hệ tư vấn

Ms Thanh

thanh@pitesco.com
0914.432.418

hongthanh86
ACA60 Đại lý hãng Alia tại Việt Nam, nhà phân phối hãng Alia tại Việt Nam , thiết bị đo lưu lượng Alia, thiết bị đo mức Alia
ACA60 is mainly designed for the calibration and maintenance of on-site industrial thermodynamic(al) instrument and their system.
Its complete and practical functions are easily accessible. With latest extensive digital-converted integrative circuit and large-screen display, it is supplied with functions of output, measurement, ITS-90 query and 24VDC power supply, making it convenient for you to check and calibrate sensor, transmitter, displayed instruments, and control system on spot.
FEATURES
FEATURES
Large 2-line LCD with backlit display

Sources and reads mA, mV, V, Ohms, RTD and frequency

Keypad to enter output parameters directly

Simultaneous millivolt display when in temperature measurement mode

Small, streamlined shape, easy to carry and hold

Thermocouple measurement/output with automatic or manual cold junction compensation

Quick query to resistance & temperature, and millivolt & temperature

24VDC loop power supply

Ni-MH battery available, continuous use for at least 6 hours

Concurrent input/output, convenient to operate

Temperature unit oC and oC available.
SPECIFICATION
Source:
Battery Type:
VDC, mA, mV
NiMH Pack, 1800 mAh, 7.2VDC
T/C(S, K, E, T, J, B, R, N, W325)
Charger Supply:
Frequency, 0-5000 Hz (4VDC)
90 ~ 260VAC 50/60 Hz
Resistance, 10 - 5000
Power Consumptio:
24VDC, 30mA Max.
2W
Read:
Accessory Included:
VDC, mA, mV
Test leads two pairs
T/C(S, K, E, T, J, B, R, N, W325)
Power Adaptor(90-265VAC, 50/60Hz)
Frequency, 0-5000 Hz (24 VDC Max.)
Reinforced aluminum carrying case
RTD(PT100 , Cu50)
Shoulder straps for carrying case only
Response Time:
Dimension:
80ms
Calibrator
Operating Temp.:
231 *104 * 39mm
-10 ~ +55 oC
9.1" * 4.1" * 1.5"
Ambient Humidity:
Carrying Case
0 - 90% RH non-condensing
330 * 250 * 150mm
Display:
13" * 9.8" * 6.0"
2" (128*64 Pixels), Backlight LCD
Weight:
Display Update Rate:
0.7 Kg
4 / second
Enclosure:
Keyboard:
IP54
25 Membrane keyboard
Password Protection:
4 Digits
Battery Operation:
6-8 Hours
Charge Time:
8-12 Hours