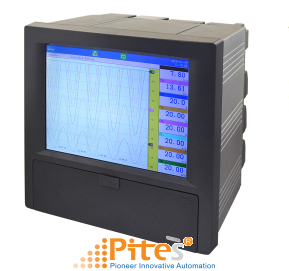 Paperless Recorder
Xuất sứ: USA
Nhà cung cấp: PITESCO
Hãng sản xuất: Alia VietNam
Liên hệ tư vấn

Ms Thanh

thanh@pitesco.com
0914.432.418

hongthanh86
ARC1000 Đại lý hãng Alia tại Việt Nam, nhà phân phối hãng Alia tại Việt Nam , thiết bị đo lưu lượng Alia, thiết bị đo mức Alia
ARC1000 Series Paperless Recorder features the most advanced technology. It highlights in various channels, complete function, easy operation, high accuracy, low consumption and high performance, overcoming the disadvantages of old paperless recorder of limited channels and large
occupancy if several recorders are to be installed.
FEATURES
DIN (288mm*288mm), 800*600 Pixels, TFT truecolor (LCD)

500MB built-in memory card, support long-term data record

Common input signal: mA, include VDC, T/C, RTD, Hz etc.

High Accuracy +/-0.15% of Reading

Max. 24-points relay output, Max.8-points 4-20mA output, Max. 6 points 24VDC output

Can receive input signals of max. 48 channels

24VDC Aux. power supply, 2-wire system

Display/Record Single-point, Multi-point, Trend, Totalizer and Bargraph

Records can be saved in USB memory&SD card and transferred to PC

Ethernet communication, RS485/RS232 function
SPECIFICATION
| | |
| --- | --- |
| Number of Inputs: | Display: |
| 1- 48 channels | 10.4" color-screen LCD |
| Input: | Trend & Bargraph |
| T/C (K, S, B, E, J, N, T, R,N, etc.) | Vertical / Horizontal |
| RTD, CU50, CU53, BA1, BA2 | Digital |
| DCA (4-20 mA, 0-10 mA, 0-20 mA) | 4-1/2 digits programmable |
| DCV (0-5V, 1-5V, 0-10V, 20mV, 100mV) | Engineer Unit |
| Frequency (1Hz ~ 5KHz) (4~24VDC) | 66 different engineering units |
| Resistance (0-175 , 0-400 ) | Parameter Protection |
| Accuracy: | Password entry (6 Digits) |
| +/-0.15% of Span | Logging Rate: |
| Response Time: | 1 Second ~ 1800 Seconds Per Data |
| 50 ms | Recording Capability: |
| Alarm Types: | 144 Hours (48 Points, 1 Data/Second) |
| High & Low alarm, Incr. & Decr. alarm | 355 Years (8 Point, 1 Data/5 Hours) |
| Output: | PC Software: |
| 4-20 mA *8 points (Max.), load 800 | Windows 2000/XP/Vista/7/8 |
| Relay, 3A/250V * 24 points (Maximum) | Display |
| 24VDC, 60 mA *6 points (Maximum) | Trend, Numerical, Circular, Alarm, Bargraph |
| Decimal Point: | Totalizer |
| 2 digits to the most | Convert Function |
| Storage Memory: | Saved as excel files |
| 500 MB (on board) | Protection Class: |
| Cycling Mode: | IP 65 |
| Newest Data overwrites oldest data | Weight: |
| Recording Data Shift: | Max. 7.5Kg |
| USB memory (8GB) / SD Card (8GB) | Dimensions: |
| Display Update Rate: | 288mm (W) * 288 mm (H) * 254mm (D) |
| 1s | Ambient Temperature: |
| Keypad: | -10 ~ +60 oC |
| 12 Keys (Page,Left,Righ,Up,Down,Enter) | Ambient Humidity: |
| for programming and display control | 10% ~ 85%RH (5 ~ 40 oC) |
| Parameter Storage: | Power Supply: |
| Operation parameters are stored by | 85-260VAC, 50/60Hz |
| EEPROM for more than 10 years | Vibration Test: |
| | 10~60Hz ,10m/S2 for 3 hours |
| | Power Consumption: |
| | <=20 W |
| | Communication: |
| | RS232 / RS485 (MODBUS protocol) |
| | Ethernet |