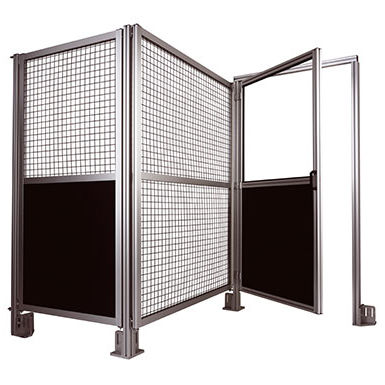 MFS Machine Fencing System
Hãng sản xuất: Hepcomotion
Liên hệ tư vấn

Ms Trinh

trinh@pitesco.com
0914.738.179

live:6ef6300b3a06528e
Đại lý hãng HepcoMotion tại Việt Nam, nhà phân phối hãng HepcoMotion, thiết bị truyền động hãng HepcoMotion, bộ truyền động tuyến tính hãng HepcoMotion, thanh trượt HepcoMotion, thiết bị kiểm tra mối hàn, vòng bi, đường ray, trục, giảm chấn tuyến tính, hệ thống đo LMI Linear, truyền động trục vít dây đai khí nén HepcoMotion, Hepco Viet Nam
MFS Machine Fencing System
Compatible with Hepco's MCS aluminium profile range. Hepco's Machine Fencing System provides cost effective protective barriers for use around machine installations, gantries, robot systems or stocking areas. This maintenance free system is simple to construct and provides a low cost alternative to steel fence frameworks.
Hepco's design service ensures accurate specification prior to ordering.

Suitable for small or large fencing requirements.

Standard slot profile sections accept a wide range of wire mesh or panel options.

Mounting brackets allow panels to be fixed in position at a wide range of angles not just 90 degrees.

Panels simply secured to vertical posts with two bolts.

Wire mesh available in 3mm & 4mm options, self coloured or black powder coated.

Non standard options available on request.

Polycarbonate or sheet panels up to 8mm can be fitted in to the slot profile sections.

Unique spring retaining clip ensures mesh or sheet panels do not vibrate within the slot profiles.

Fast delivery.